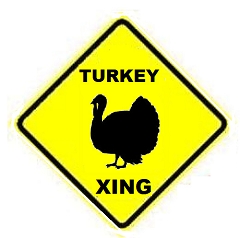 So, we recently had my son's vehicle here in Wisconsin for some body work. My husband and I had just left our house to take it back to Michigan to his home. We were about 5 miles from home when a flock of Turkey's decided to take flight.
Anyone else ever had this happen? You're driving along, minding your own business and "WHAM!". Up comes that flying bowling ball with no warning? Those turkeys really need to pay more attention to the turkey crossing signs and use them! LOL

Thankfully, there was no damage to the vehicle and we were allowed to continue on our way. I have seen the damage that those little guys can do to a vehicle.
They seem to be on the move right now and if you find yourself on the receiving end of that flying bowling ball, give us a call. Let's make sure that your radiator has not received any damage. Keep an eye on your temperature gage until you can get it checked out. I know that WE certainly did!
Give us a call or stop in. We will give you a free, computerized, no obligation estimate and check your radiator for any possible damage. You can reach us at (715) 446-1300.