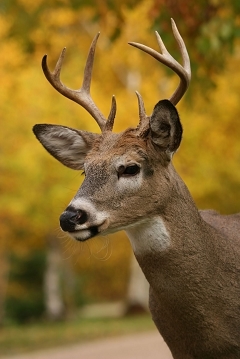 Did you know that today, Tuesday, October 27th, 2015 is known as "The Rutting Moon"?
It is the 2nd full moon after the Autumnal Equinox and is what some hunters claim triggers the beginning of the breeding activity for deer.
What does this mean for Wisconsin drivers?
If you live in or near Marathon County, I am sure you have noticed the amount of deer crossing the road in front of you has recently increased. It is near the rutting season for these little beauties.
Keep these handy tips in mind:
Be sure you have comprehensive coverage on your vehicle
Do NOT swerve to avoid hitting a deer. It can be much more dangerous. Even though it goes against your natural instincts, it is generally better to slow down and hit the deer than swerve and hit an oncoming vehicle or a tree.
Use your bright lights when possible
Pay special attention between 6 - 9 pm
But, if you find you have been unable to avoid causing damage to your vehicle, we can get your car or truck back on the road quickly!